http://www.dailycamera.com/ci_17965858?IADID=Search-www.dailycamera.com-www.dailycamera.com
Boulder Prep creates American Indian focus program
By Amy Bounds, Camera Staff Writer
Posted: 04/30/2011 04:34:04 PM MDT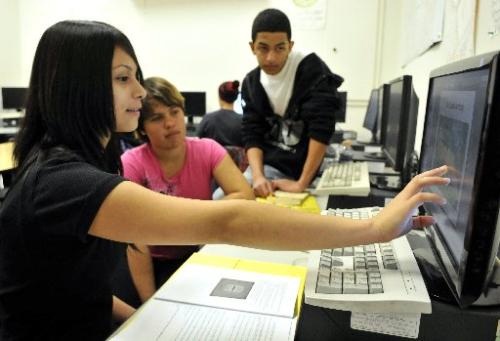 Boulder Prep High School students, from left, Martha Contreras, Katie Rouze and Jose Barazza work on an assignment in an American Indian literature class last month. ( Cameron Redwine )
Mason McCart was failing after two years at Boulder High. Facedwith a choice of trying an alternative school or going to live with relatives in another state, he took a chance on Boulder Preparatory High School, an alternative charter in Gunbarrel. Along with a better academic experience, he said, the school has taught him about his Native American heritage and Plains Apache tribe.
"A lot of the schools, they try to focus on the majority," said Mason, a senior. "We have actual classes on the entire history." Boulder Prep started an American Indian focus program to meet the needs of its growing Native American student population. Now, mainly through word of mouth, the school has the district's highest concentration of American Indian students — including seven who are on track to graduate in May.
The focus program includes classes in American Indian history, art, current issues and Lakota language and culture. Local American Indian guest speakers also make regular appearances, while a small group of students last school year visited a reservation in South Dakota. "Our view of education is that it's a way out for our kids, a way to be successful," said program director Ruth Cameron, who's an American Indian. "Boulder Prep is the perfect school for this program.
Her goal is to improve both achievement and graduation rates for American Indian students, who traditionally don't perform as well academically as their non-Native classmates. At Boulder Prep, the graduation requirements include a college acceptance letter. For the classes, Cameron developed most of the curriculum herself with the help of American Indian elders.
Along with American Indian-specific classes, Boulder Prep teachers also are encouraged to use "culturally competent" teaching practices, including incorporating using literature and films from American Indian writers and directors, and teaching math in the context of beading, weaving or other cultural traditions. The program benefits not just American Indian students, but all students, said Lili Adeli, Boulder Prep's development director. "It's material that's not commonly found in the curriculum," she said. "They leave with a much greater understanding of the history of this country."
Districtwide, just half a percentage point — 154 students — are classified as American Indian this year. Boulder Prep officially has five American Indian students, but school officials said 15 percent, or about 25, of its 160 students consider themselves American Indians. Generally, Boulder Valley's small American Indian student population is scattered among its schools, with only one or two students attending most schools. Providing a peer group so students aren't isolated helps them support each other, Cameron said. Boulder Prep also is a more ethnically diverse school in general than other Boulder Valley high schools. Cameron said there are few American Indian cultural events in Boulder, with students instead traveling to Denver. But, she said, there is an annual leadership conference for all Boulder Valley American Indian high school students, along with a tutoring program that pairs students with tutors.
Junior Chantel Lucero, who lives in Longmont, said she started at Boulder Prep this year because "I heard it was the place to go." Added her brother, senior Paul Lucero, "Seeing what our tribe had to overcome gives me motivation to do better." Jerika Romero comes all the way from Arvada to attend Boulder Prep. The junior was one of the students who went on the trip to the reservation in South Dakota, making it her first trip to a reservation. She said the visit was emotional and eye-opening.
"The way they live, it's sad," she said. "It makes me want to do something." She said she appreciates the depth of learning at Boulder Prep, both about her culture and other subjects, and the individual attention. "Boulder Prep is like a second home," she said.
DailyCamera.com